I am Dolphin
We're at a critical place in the history of our planet... facing marine fragility, loss of bio-diversity, vanishing cultural values, and species disappearing in front of our eyes.
I am Dolphin is an evolutionary series that reveals the power of interspecies communications with dolphins, nature, and us!
It's our "shared story"... carried across the seas for generations.
What if...

"Dolphins may well be carrying information as well as functions critical to the regeneration of life upon our planet." as Buckminster Fuller, early environmental activist and futurist once said.
The I am Dolphin series combines docufiction and will be available in multi-platforms: books, tv, film, web-series, social media, and a newly designed interactive state, called "The Dolphin State", which would allow the participator a chance to be "touched by a dolphin."
Together we'll be exploring life from the "dolphin's perspecitve" back to humanity!
~ Highlights ~
The power of memories, telecommunications, cell regeneration for our planet, musical harmonies, accessing DNA coding, states of water, the language of silence, consciousness and unconsciousness, what to do with anger and fear, as well as uncovering the challenges and solutions for modern day living with "our nature" with Nature.
"Animal talk" is an ability we humans are designed to do from birth, and we'll be talking about the science behind this.
~ Storytelling ~
Includes indigenous teachings, myths, and legends of  Aboriginal Australians, New Zealand Maoris, and Native Americans.

The series "Bible" is created from "The Dolphin Memory Movement", investigative research that began in 1977. Discoveries that dolphins and whales "talk telepathic and holographic" and that coming from their world is profoundly transformational to ours.
Indigenous cultures believe that "dolphins are our ancestors", and base their cultures living in that connection, a part of nature's spherical designs.
~ Background ~
Investigative researcher and filmmaker Dove Joans has created short environmental films: Free Morgan PSA - http://youtu.be/9zxZeO7IG4Y, Through the Dolphins' Eyes - http://youtu.be/eNCYo255Yik, and We are Water Spirit - http://vimeo.com/63120106, a documentary finalist in Australia's Flickerfest Byron All Shorts, 2013, and official selected out of 2,000 entries for the Nashville Film Festival, North American Premiere 2013. Dove, known by many as Dolphingirl is also a published author of "Dolphin Talk", photojournalist, actor, host, animal activist, blogger, and eco-painter... using the arts to promote planetary care!.
Additional team support: Jim Knowlton, Jean-Michel Cousteau's cameraman and editor.Jim is part of the film's post-production, editing, and consulting.
Imagine making a difference... not only in our oceans today, yet for future generations to come.
Would you like to transform your life?
How about those you love?

It's possible...

Come be a part of this incredible adventure!



2016 Educational Crowdfunding Campaign: gofund.me/IamDolphinSeries
Invitation clip! http://youtu.be/qeF6Cpphs3g
For additional information, Luckydove Productions ~ dovejoans@gmail.com

Heartfelt gratitude!
"We are called in life to do what the oceans need us to do... if not now, when?" ~ Dolphingirl
Benefits for Contributors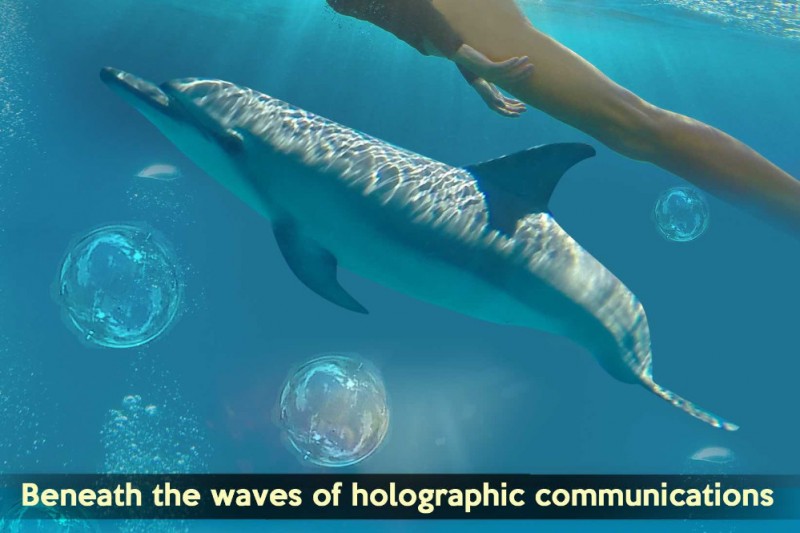 Leaving a Legacy
Contributors over $2,000 - Associate Producer, over $3,500 - Producer, over $5,000 - Executive Producer

Advertisment worldwide: film credits, events, schools,

film festivals,

TV,

and social media channels

Discovering ancient knowledge for the 1st time

Global outreach

awareness

with animal, environmental, social, and cultural issues.

Personal development


Community enrichment through storytelling and scientific discoveries

Protecting our seas

Making a difference today, so future generations will survive and thrive
~ Important Notice ~

"The communication dynamics of dolphins and whales affects everything from electrical engineering down to our DNA.
We are designed with those abilities too, yet 99% have not YET made that "conscious connection."
It's an ancient connection, yet one that has modern benefits worldwide... even down to our cells communicating."

~ Dolphingirl